November 29, 2022
How Carriers Can Quickly Resolve a Double-Brokering Scam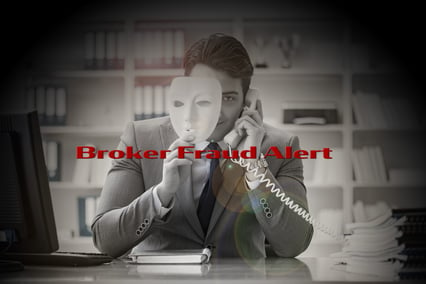 Do you suspect that you've become the victim of a double-brokering scam? Although there are many red flags to look out for, carriers of any size can find themselves on the receiving end of fraud at some point. Unfortunately, it's a common practice in the transportation industry, and individuals posing as freight brokers get craftier every day. These scams cost the transportation industry more than $100 million every year.
If you are the victim of a double-brokering scam, it's important to know how to respond. Keeping calm and gathering as much information as possible is critical. This blog post looks at what you should do if you discover you've been scammed and best practices for resolving the situation.
What To Do if the Load Is in Transit
A carrier typically realizes they're hauling a re-brokered load when they have a "lightbulb" moment – a sudden realization that something is wrong. Experienced carriers, many of whom have become victims of re-brokered loads, are often able to pick up on the warning signs.
The first sign of trouble is continued silence from the imposter or the person pretending to be a licensed freight broker. Once imposters set their plans into motion, many will quickly disappear, leaving you unable to reach them.
Another red flag is the rate. You might realize that the rate the broker agreed to pay was too good to be true. By the time the fraudster has spoken with you, they've already talked with the legitimate broker and agreed to haul the load for them. So, it's in their best interest to get the freight there as quickly as possible to get paid. This sense of urgency means they'll spend no time negotiating with you (whom they have no intention of paying) and quickly agree to any rate.
If you realize you're hauling a re-brokered load, call the shipper immediately and find out who the actual broker is. If the shipper doesn't know or if they're unresponsive, take the freight back to the shipper.
What to Do If You've Already Delivered the Load
After delivery, carriers discover that their load has been re-brokered when time continues to pass, and they never receive payment. When this happens, you have two options. You can hire a debt collector like Baxter Bailey to handle it or attempt to collect the money yourself.
Although it's possible to handle the payment collection yourself, we recommend using a debt collector. Most debt collectors, especially those specializing in freight and trucking collections, have strong relationships with many shippers and receivers, giving them a better chance of tracking down the fraudster and finding a solution for both defrauded parties.
If you choose to resolve the situation without a collector, it's important to be polite when speaking to the shipper or receiver. While this scenario is one of the most frustrating situations a carrier can experience, the shipper or receiver does not know you exist and that you haven't been paid. Like you, this is the first time the shipper or receiver is learning that the load was re-brokered, and they'll want to get to the bottom of it just as quickly.
Brokers want to take the time to help you get the situation resolved because a freight broker is only as good as its carrier network. If there are bad apples in it, it's in their best interest to weed them out and identify the culprit as quickly as possible to prevent booking them on another shipment.
Being cooperative when information is needed, communicating calmly with all parties, and becoming aware of how fraudsters take advantage of carriers is your best chance at quickly collecting payment and preventing a similar situation from happening to you again in the future.
How to Use Your Bill of Lading to Find the Broker
If you prefer not to use a debt collector, you can use your bill of lading to determine the legitimate broker for the load. Here's how:
• Look for the SCAC code. A standard carrier alpha code (SCAC) is a unique two-to-four-letter code used to identify transportation companies. If there's a SCAC code on your bill of lading, call the National Motor Freight Traffic Association (NMFTA). Once you give them the SCAC code, they'll tell you who the legitimate broker is.
• You can also use the names on the bill of lading to contact the shipper or receiver. They'll be able to tell you which party is responsible for payment and if there was a third-party broker on the load.
Remember
As a carrier, it's important to do your due diligence and make sure the brokers you work with are reputable. Remember – every time you agree to haul for a broker, you are extending them credit. Thoroughly vetting each broker you work with is crucial to prevent getting stuck with a load without compensation.